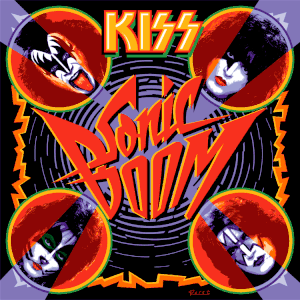 KISS IN THE STUDIO RECORDING SONIC BOOM...
KISS in the Studio video link
Paul and Tommy track by track commentary Video link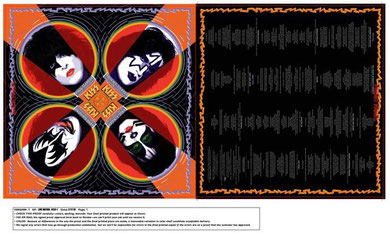 23-02-10

SONIC BOOM VINYL SLEEVE PREVIEW (from kissonline.com)

This is the actual printing proof sheet for the full color inner sleeve of the Limited Edition KISS SONIC BOOM Vinyl. The sleeve includes the album's lyrics.
08-02-10
LIMITED EDITION SONIC BOOM VINYL
KISS PROUDLY ANNOUNCES THE RELEASE OF SONIC BOOM ON VINYL! (from kissonline)
The critically-acclaimed KISS album will be pressed on 180 gram vinyl in five colors - Purple, Red, Green, Blue and Black. The album will be packaged in a full color gatefold jacket and includes lyrics on the inner sleeve and an exclusive 22" x 33" color poster! Only 1000 of each color will be pressed!! Because of the limited quantities, kissoniline is now taking pre-orders and expect the albums to ship in 6-8 weeks. The Limited Edition KISS' SONIC BOOM Vinyl is available exclusively at KISSONLINE.com, the official home of KISS!
15-10-09
SONIC BOOM WORLDWIDE CHARTS
Sonic Boom will debut on the Billboard 200 chart at #2.
First week sales topped the 108,134 units in the US and this is the KISS' best ever chart performance.In 1998 Psycho Circus entered the chart in 3rd place with 109,572 while Love Gun album hit the 4th place back in July 1977.
Sonic Boom scored a wonderful #5 in European album chart, combined sales all over Europe. KISS has never reached such chart position erlier in their career.
#  Nation
2  USA (best US charting ever)
5  Europe combined sales (best European charting ever)
2  Norway (best since '80)
3  Sweden
3  Czech Republic
4  Germany
6  Austria
7  Finland
12 Switzerland
13 The Netherlands (best since '79)
14 Italy (best since '80)
24 Great Britain
24 Denmark
31 France
32 Spain
57 Belgium
Sonic Boom debutterà al secondo posto di Billboard 200 segnando il miglor debutto nella storia dei KISS. Sul virtuale podio dei KISS album troviamo al secondo posto Psycho Circus 3° nel 1998 e Love Gun 4° nel lontano Luglio 1977.
Le vendite combinate di Sonic Boom in Europa hanno portato i KISS ad un fantastico 5° posto nella European album chart. Nessun album dei KISS precedentemente aveva mai raggiunto una così alta posizione!!!
02-10-09
LADIES AND GENTLEMEN: SONIC BOOM!!!!!!!

Sonic Boom is now ready to be officially downloaded (Europe only) from iTunes Store!!!
Sonic Boom è scaricabile da oggi su iTunes Store!!!
Title: SONIC BOOM

Released date: October 6 (US&Canada) - October 5 (UK) - October 5 (Italy)

Tracks: listen to samples
01. Modern Day Delilah (Stanley)
02. Russian Roulette (Simmons, Stanley)
03. Never Enough (Stanley, Thayer)
04. Yes I Know (Nobody's Perfect) (Simmons)
05. Stand (Stanley, Simmons)
06. Hot & Cold (Simmons)

07. All For The Glory (Stanley, Simmons)

08. Danger Us (Stanley)

09. I'm An Animal (Simmons, Stanley, Thayer)
10. When Lightning Strikes (Thayer, Stanley)
11. Say Yeah! (Stanley)

Producer: Paul Stanley
Engineer: Greg Collins
Recorded at the Conway recording studios, Hollywood, CA.
Cover Art & Design: Michael Doret (exclusive interview with Michael here)
Guitars and vocals: Paul Stanley - Bass and vocals: Gene Simmons
Lead guitar and vocals: Tommy Thayer - Drums and vocals: Eric Singer
Record lebel: KISS records

Promotion & Distribution: Wal-Mart (USA&CAnada) Roadrunner Records (Europe)

The US & Canadian release of SONIC BOOM is a three-disc set that also features KISS KLASSICS, a 15-track completely re-recorded greatest hits CD, as well as a live DVD shot in Buenos Aires, Argentina during the band's 2009 South American tour. The discs are packaged in a DigiPak along with a 20-page booklet.
SONIC BOOM will be available exclusively at Walmart, Walmart.com and Sam's Club retail locations beginning October.
---
In Europe SONIC BOOM will be distributed by Loud&Proud/Roadrunner Records and is now on pre-order at hmv.com. You may choose among the complete set (2CD+DVD), Sonic Boom + DVD and Sonic Boom CD only.
---
KISS KLASSICS CD Track Listing:
1. DEUCE 2. DETROIT ROCK CITY 3. SHOUT IT OUT LOUD 4. HOTTER THAN HELL 5. CALLING DR. LOVE 6. LOVE GUN 7. I WAS MADE FOR LOVIN' YOU 8. HEAVEN'S ON FIRE 9. LICK IT UP 10. I LOVE IT LOUD 11. FOREVER 12. CHRISTINE SIXTEEN 13. DO YOU LOVE ME 14. BLACK DIAMOND 15. ROCK AND ROLL ALL NITE
KISS Bonus Live DVD Track Listing:
1. DEUCE 2. HOTTER THAN HELL 3. C'MON AND LOVE ME 4. WATCHIN' YOU 5. 100,000 YEARS 6. ROCK & ROLL ALL NITE
SONIC BOOM REVIEW FORM BW&BK
Reviewed by :  Mitch Lafon
Rating : 9.0
With Sonic Boom, KISS has stopped chasing the next hot trend and their lust for a number one single. Instead, the band has focused their efforts on making the best possible 'KISS music' and by and large have succeeded. Combining the brash swagger of their '70s catalogue with the pop sensibilities of their '80s adventures and the raw power of their '90s era, Sonic Boom delivers an album that all KISS fans can call their own. 'Say Yeah' is your classic arena rock sing-along with Paul Stanley delivering the upbeat vocals with enthusiasm. 'Yes, I Know (Nobody's Perfect)' finds Gene Simmons in his Rock 'N Roll Over glory days while 'All For The Glory' (a track that could fit comfortably on Dressed To Kill) is the album's big revelation. The song features Eric Singer on his very first lead vocal and shows that his talent goes beyond pounding skins. 'Never Enough' is another upbeat track with Paul Stanley leading us into '80s KISS pop territory while 'Russian Roulette' has that Simmons' snarl that brings us right back into Creatures Of The Night glory. The band tackles '90s KISS on 'Danger Us' with another great Stanley vocal. 'When Lightning Strikes' is a straight ahead rocker and is the track that most fans will be curious about since it features Tommy Thayer behind the mic. The guitarist doesn't disappoint and it underscores the fact that Kiss has once again become a unique collection of four distinct personalities. If the band can continue down this path, fans will clamor for more new music and will demand that the songs be played live. Overall, KISS has done the unimaginable. They've delivered an album that can proudly carry the KISS moniker and should satisfy fans from all the band's various eras and incarnations.
NEW KISS: SONIC BOOM, OR BUST?
By SUN MEDIA
What didn't go into KISS's new album Sonic Boom seems almost as important to Gene Simmons as what did. "There are no ballads," the demon bassist growls down the phone from L.A. when asked about the band's first studio disc since 1998's Psycho Circus. "There are no keyboards. There are no synths. There are no girl background singers."
Of course, there's also no Ace Frehley and Peter Criss. But a lack of original members didn't stop Gene and longtime partner Paul Stanley from taking an old-school, back-to-basics approach to their 19th album. The disc is due for release Oct. 6. While we can't agree with Gene that it's the best KISS album in 30 years, it's definitely their strongest work in two decades. Here's a song-by-song preview:
Modern Day Delilah 3:37
A funky guitar lick straight from the 1970s hooks up with an 1980s arrangement and a big chorus for a killer opener voiced by Paul. "Yeah, yeah!" are his first words. No argument here.
Russian Roulette 4:32
Gene steps up to the mic on a gear-shifting stomper anchored by his grinding bass, dripping with his usual lascivious lyrics, and graced with a smoking Tommy Thayer solo. Two aces in a row.
Never Enough 3:27
Another outsized 1980s hair-metal arena-rocker from Paul -- but from the slinky guitars and bare-bones beat to Stanley's high-register vocals, it works. Three for three.
Yes I Know (Nobody's Perfect) 3:03
Gene's turn again -- and he dishes up a classic power-chord glam-slam that wouldn't have been out of place on Dressed to Kill. The best song so far. And that's saying something.
Stand 4:50
Stanley and Simmons share the mic on a bombastically overblown stadium-rock anthem to solidarity and perseverance. It's even cornier than it sounds. The only stumble so far.
Hot and Cold 3:37
Simmons gets the disc back on track with a punchy 1970s-style cowbell rocker in the mold of Dr. Love. "Baby, feel my tower of power," leers Gene. Another wicked solo from Thayer.
All For the Glory 3:49
Drummer Eric Singer -- who wears Criss' gear and handles his tunes onstage -- shows off his raspy vocal prowess on this solidly driving number.
Danger Us 4:23
Another classic riff -- there's a bit of God of Thunder in there, but faster and more fiery -- along with another wailing vocal from Paul. The punny chorus is the only drawback.
I'm an Animal 3:47
Armed with a lumbering beat and a swaggering Zep-like guitar lick, Gene bellows out a dinosaur-stomper reminiscent of War Machine and I Love it Loud.
When Lightning Strikes 3:45
As his reward for all his blistering Frehley-style fretwork, Thayer gets the vocal spotlight on this chunk of power-chord cowbell-plonk rock.
Say Yeah 4:27
The guitars go from jangly to chugging and Paul plays with some echoing vocals on this Tears Are Falling-like closing anthem. You wanted the best? This time, you actually got it.
NEW KISS ALBUM - SONIC BOOM CD REVIEW
New KISS album - 'Sonic Boom' CD review
August 29, 8:01 PMChicago Metal Music ExaminerMelanie Falina
It's been more than a decade since KISS' last studio album.  Eleven years is a decent chunk of time on most scales - but for KISS fans this has seemed an eternity. 
Recent solo albums by both Gene Simmons and Paul Stanley helped to ease the pain somewhat, but then also had some KISS fans wondering, 'Well, why not a new KISS album?' 
When KISS announced they were to begin working on a new album excitement spread like wildfire through the KISS Army, but there were those who skeptically held the stance that they'd believe it when they saw it - or, in this case, heard it.
Well the wait, the wondering, and the disbelieving is about to come to an end on October 6.  Produced by KISS' own Paul Stanley, Sonic Boom is on its way. 
The most recent musical products we've had from these guys were Paul Stanley's solo release Live To Win and Gene Simmons' solo album A**h*le.  Stanley's was emotion, Simmons' was fun - and now with Sonic Boom those influences bond and yet include so much more. 
Sonic Boom is a sexy album packed with good quality songs that insight repeat listening.  It's a great blend of old KISS, modern KISS, and even - - - dare it be said?  - Some brand spanking new KISS sounds as well.
KISS, in their 35 years, has gone on an amazing journey and has a rich, full history.  And some KISS fans are devoted, almost cult-like followers, but then there are some who will vehemently dislike any new release simply because it's not a repeat of Destroyer or KISS (the 1974 self-titled debut release).  No one can make everyone happy, but Sonic Boom delivers the goods that most KISS fans will receive quite warmly.

"Modern Day Delilah" - the only song thus far available to the public - it can be heard on KISS' Official Website.  Paul Stanley takes the vocal reigns on this one.  "Modern Day Delilah is bold and brassy, a great rock tune with a heady groove and exciting guitar solo.  This song is simply infectious, and was the perfect choice as the album's first release.
"Russian Roulette" - features Gene Simmons on vocals and has got a bass line that is sexy and gritty.  Simmons' vocals are clear and naughty and the chorus is catchy.  With the driving rhythms in "Russian Roulette" it's a great song to strip to if you're so inclined.
"Never Enough" - hands the lead vocals duties back over to Stanley.  This is the quintessential rock anthem song.  Total KISS, total Paul Stanley, total feel-good, and nothing but good feelings with an aggressive guitar solo.
"Yes I know (Nobody's Perfect)" - a classic 70's KISS sound and classic Gene Simmons feel to it.  Nice groove.
"Stand" - a little unexpected.  "Stand" is catchy but showcases a different style from the other songs on the album.
"Hot And Cold" - is a whimsical and upbeat tune that is perfect for Gene Simmons.
"All For The Glory" - features vocals by drummer Eric Singer and is one of the highlights of this album.  Singer's slightly raspy and rocking vocals accentuate this song really well.
"Danger Us" - a fun play on words for this Paul Stanley lead song.  "Danger Us" has got a solid rhythm throughout and nice guitar work.
"I'm An Animal" - a larger than life, big rock and roll sound.  Perfect for 'the Demon.'  If this song was a person no one would mess with it.
"When Lightning Strikes" - is guitarist Tommy Thayer's vocal contribution and another highlight of the disc.  "When Lightning Strikes" has got a sultry groove and Thayer is authoritative in his vocal style.
"Say Yeah" - with a big rock sound and great harmonies.  This is one of those songs that will pleasantly haunt you after just the first listen.
Sonic Boom will be available exclusively at Walmart (stores and online) and Sam's Club in the U.S. and Canada.  The album package is a 3-disc set that will include - in addition to Sonic Boom's 11 new songs - Kiss Klassics - a 15-track, re-recorded greatest hits CD, a live concert DVD that was recorded in Buenos Aires, Argentina earlier this year, and a 20-page booklet. 
The countdown continues but we're almost ready for take-off. 
MODERN DAY DELILAH Lyrics
MODERN DAY DELILAH (Paul Stanley)
I still remember when I saw your face across the room
Told me to take you but the price of love would seal my doom
Pre-Chorus
I know the way you made the others break
But loving me would be your first mistake
Chorus
Same old ways, same old ways
Modern Day Delilah
It's time you learn to give
Queen to slave
Modern Day Delilah
Listen

You lived your glory in a liar's haze you called the truth
The same old story of a social plan from wasted youth
Pre-Chorus
You thought that you could bring me to my knees
But who's the one who's crying baby please
Chorus
Same old ways, same old ways
Modern Day De lilah
It's time you learn to give
Queen to slave
Modern Day Delilah
Bridge
Just like the trigger of a loaded gun
You were the reason for the damage done
Too many lovers like a hunter's prey
Not today
Solo

Pre-Chorus
I know the way you made the others break
But loving me would be your last mistake
It's time you learn to give
Chorus
Same old ways
Modern Day Delilah
Shame, shame, shame on you girl
Queen to slave, come on now
Modern Day Delilah
Yeah, yeah, it's time you learn to give
Same old ways, same old ways
Now you'll pay
Delilah
Queen to slave, love's decayed
Delilah
SONIC BOOM TRACK-BY-TRACK REVIEW By Mark Eglinton / QUIETUS
19-08-09
Modern Day Delilah
Given the eleven years since their last barely passable studio album – 1998's Psycho Circus it seemed unlikely that Kiss would ever release another album of new material. Seemingly invigorated by a huge recent upsurge in interest in their hefty back catalogue by the younger generation of rock listeners into the studio they went, and six weeks later emerged armed with Sonic Boom. However, we didn't expect them to knock one out of the park this early with this heaving, sweating lump of fabulous groove straight from 1975. "Yeah yeah" are the first words to exit Stanley's mouth and immediately our ears are pricked to what is not stylistically a typical Kiss track, a circular, bass heavy riff driving everything along. The net result is your immediate desire to renew that direct debit to the' Kiss army' while arranging to graft eight or more inches of surplus off your backside on to your tongue—it really is that good.
Russian Roulette
The first of Gene Simmons's vocal contributions and this isn't at all bad. In fact the years have been pretty kind to the 'god of thunder', and his voice has actually developed more than a semblance of melody. It's raw, punchy and lyrically the usual innuendo ridden stuff "this is Russian roulette—one pull of the trigger is all you're gonna get" etc, which we've heard often before but here's it's done with a freshness of attitude that's been absent for a long, long time.
Never Enough
Classic Kiss and this could easily fit into their live set without being noticed as a brand new track. Paul Stanley seems to have done some kind of 'Benjamin Button' reverse ageing thing with his vocals because he sounds every bit as energetic as he did back in their 70's heyday. Tommy Thayer too has slotted in nicely as an Ace Frehley replacement but without all the 'space' and its associated discordant rambling solos. This is obvious single material, if such things exist anymore, and is Kiss at their best. They've remarkably managed to summon the best attributes of their past without sounding dated, while at the same time making it all sound relevant to now—brilliant.
Yes I know (Nobody's Perfect)
Simmons's rumbling bass drives this fairly standard Kiss number along in a way that it hasn't for years (apparently he was really motivated in the studio) Not just that, he sings too, and tunefully does it. Chunky and not overly overdriven guitar combined with that satisfying emphasis on bass give this a solid feel with some more good-time, tail chasing lyrics, as you'd expect...
Stand
This one will completely divide opinions. Initially a straight-ahead rocker in the vein of the classic 'Strutter' which at no time threatens to dissolve into a 'Crazy Nights' or 'God gave Rock 'n' Roll To You' type anthem; until it does exactly that with the chorus, which no other band on the planet would get away with. Not content with that, it even dives into a multi-vocal layered mid section before returning to the huge stadium rock chorus which you could imagine appearing in some teen movie. Though it works, it's probably the closest relative to some of their late 80s and early 90s howlers.
Hot And Cold
Cowbell-accented drums and more classroom innuendo punctuate this chunk of typical Kiss fodder (think 'Calling Dr Love'). It all sounds very live and not in any way over-produced (seemingly no Pro-Tools were used anywhere on the record). "Baby feel my tower of power" should give you some idea of what Gene's referring to and the song's easily good enough to forgive him such childishly dated folly.
All For The Glory
Drummer Eric Singer, who has assuredly hammered out rock-solid backing thus far, lends a hand on vocal duties with fabulous result. This is absolutely solid gold stuff reminiscent of Destroyer era Kiss, but with the nastier edge of later incarnations like Creatures of the Night. Tommy's solo is absolutely killer too - what talent he's brought to the band.
Danger Us
Starting with a quietly picked guitar intro before fading satisfyingly (why do bands not fade-in much these days?) Aerosmith like riff and Stanley's most effective vocal outing on the record. You get the impression that they're all really enjoying this stuff and again Simmons's sonorous bass rumble is very much in evidence, aidded by Stanley's own intentionally Spartan studio production.
I'm An Animal
A huge, lumbering riff of Zeppelin-esque ('Dazed and Confused' springs to mind) proportions and another Simmons vocal characterise this beast of a track bristling with stalker menace. Similar in nature to let's say 'War Machine' off Creatures of the Night it stomps emphatically all over some of the tedious filler of recent albums. "I'm an animal, and I'm free" Gene divulges, and who the hell are we to argue. This is fast becoming Simmons's showpiece and surely his richest vein of contribution in their history.
When Lightning Strikes
'Musical singers' continues with guitarist Tommy Thayer wrestling control of the mic this time around. He in no way disappoints, dialling in a pretty effective vocal effort that many more established singers would die for. More cowbells and a riff that's been done before give way to a straight-forward bridge/chorus. The closest you'd get to 'stock' material but in the context of the quality of the album generally that's probably being overly critical.
Say Yeah
When we expect filler we get utter killer, and if you're not singing this in the car or the bath you've no business whatsoever reading this review. Again, Stanley's vocals are a revelation – wielding an insanely addictive hook reminiscent of 'Tears are Falling' from the Asylum era but much, much better. Thayer's solo is brilliant too and resembles a lot of the stuff Bruce Kulick (surely their most underrated axe-man) came up with; fitting the song brilliantly and carrying no excess fret flab whatsoever. The Kiss of 2009 have left the building, and what a way to sign off...
SONIC BOOM TO BE SOLD EXCLUSIVELY AT WALMART
17-08-09
LOS ANGELES, CA & BENTONVILLE, AR (August 17, 2009) KISS and Walmart announced today that SONIC BOOM—the bands highly anticipated CD, and its first new material in 11 years—will be sold in the U.S. and Canada exclusively at Walmart, Walmart.com and Sams Club retail locations beginning October 6. SONIC BOOM, produced by the bands Paul Stanley in Los Angeles, is the centerpiece of a three-disc set that also features a completely re-recorded greatest hits CD as well as a live DVD shot in Argentina during the bands recent, record-breaking KISS ALIVE 35 South American tour. The CD set will retail for $12, with pre-orders starting in September on Walmart.com.
KISS' Gene Simmons says, "SONIC BOOM" may be the best new record we've done since Destroyer! It is Rock And Roll Over meets Love Gun. The worlds biggest retailer had better get ready for the hottest band in the world and hire more cashiers before October 6th!
Stanley continues, "Through all of the albums that are considered our classics, we tried to always find ways to give our fans extras that went beyond just the music. Besides our making the best KISS album in decades, Walmart has made it possible for us to include a bonus CD with 15 of our most famous songs and an additional live DVD, shot during our recent concert in Buenos Aires. So in every sense, SONIC BOOM is the ultimate return to classic KISS form. You wanted the best, you got the best!"
Walmart, one of Americas largest music retailers, is finalizing its exciting plans now for its in-store and online destinations for KISS fans surrounding the launch of the new album and tour, and will host various KISS products in addition to their music in its stores this fall. More details on Walmart KISS activity, announcements regarding album pre-sales, sweepstakes and KISS appearances will be shared shortly.
DOC MCGHEE: GET READY FOR THE "SONIC BOOM"! KISS NEW ALBUM DETAILS REVEALED!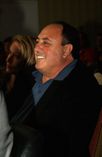 14-08-09
KISS manager Doc McGhee has confirmed to Classic Rock magazine that the band's new album will be titled "Sonic Boom" and that it will be released exclusively through Wal-Mart stores in the U.S. as part of a package including a disc of re-recorded KISS classics (already available in Japan) and a live DVD.
Due on October 6, "Sonic Boom" features the following track listing...
01. Modern Day Delilah
02. Russian Roulette
03. Never Enough
04. Yes I Know (Nobody's Perfect)
05. Stand
06. Hot & Cold
07. All The Glory
08. Danger Us
09. I'm An Animal
10. When Lightning Strikes
11. Say Yeah!
Classic Rock Magazine review:
Modern Day Delilah
Based around a lumbering, War Machine-style rhythm, Paul Stanley's vocals sound top-notch and timeless, almost like they've been sampled from Kiss Alive! Meanwhile, Tommy Thayer's guitar work is straight out of the Ace Frehley riff book. At a concise 3:35 in length, this is a perfect slam-bang beginning to the new album.
Russian Roulette
Gene Simmons takes the vocals on this one; it's an archetypal lumbering, grumbling, pummelling offering, made all the better by the addition of a signature 'ah-ah-ah-ah' chant-line. The lyrics are simplistic but effective: 'This is Russian Roulette… one pull of the trigger is all you're gonna get… you feel the hunger and it's much too much… go on take a bite.' To a fan of classic Kiss, that's sheer poetry.
Never Enough
You're know you're on to a winner immediately as this one begins with a time-honoured Stanley shout of… wait for it… 'Woah yeah!' This is a much jauntier offering than the preceding two tracks, recalling the more commercial, 1980s side of Kiss. The song has a real reach-for-the-sky spirit, full of uplifting phrases such as 'rules just for breaking', 'life for the taking' and (you guessed it) 'love 'til I'm shaking'.
Yes I Know (Nobody's Perfect)
Another three minutes of perfection. A light-hearted, hyper-commercial tune with Simmons at the mic-stand again, offering a gruff 'YEAH' (capital letters, natch) followed by the inevitable invitation: 'C'mon baby, take off your clothes.' There's no word on whether Simmons kept his T-shirt on, however.
Stand
Our favourite so far; a proper anthem recalling the crowd-rousing grandeur of God Gave Rock'N'Roll To You. Stanley delivers the words 'Stand by my side, I'll be next to you/Stand by my side, we'll make it through/Stand by my side, we'll get by, you and I' with consummate Starchild passion. This one just grows and grows… and then offers a neat false ending with some soft, CSN&Y-style harmonies (yes, really) before picking up the pace once more.
I'm An Animal
Full of giant, stalking menace, this is based around a dense, Zeppelinesque riff. Thayer plays a marvellous slick-but-stumbling Frehley solo, and you can rest assured the lyrics – 'I'm an animal and I'm free… I'm an animal in the street' – don't refer to an old lady with her poodle off the leash. Late in the song, the band issue the urge: 'Stand up, raise your fists.' Little do they know, we've been doing that since track one…
KISS NEW ALBUM + RE-RECORDED DISK + DVD OUT ON OCTOBER THE 6th
03-08-09
According to Melodic Rock KISS new album due Oct 6 thru WalMart with new material will be part of a package including re-records disc (Jigoku Retsuden", orginally released in Japan) and a DVD (possibly the ALIVE35 Down-under Tour). Same deal as Journey and Foreigner. Almost one month ago (July the 6th) Deucenews reported that SONIC BOOM would have been considered as a possible album title (SONIC BOOM is a registered trademark own by KISS). And rumors on the net now seem confirming such news. Recently Guitar Player Magazine editor published a review of 5 KISS new songs and he admitted that the title they had on the studio TV monitors while they were playing the audio files was SONIC BOOM. Such title has not yet been confirmed by the band.
Secondo Melodic Rock il nuovo KISS album in uscita il 6 Ottobre prossimo tramite WalMart farà parte di un pacchetto inclusivo di un secondo CD di materiale ri-registrato (Jigoku Retsuden", orginalmente pubblicato in Giappone) e un DVD (possibilmente l'ALIVE35 Down-under Tour) così come hanno fatto precedentemente sia i Journey che i Foreigner.
Quasi un mese fa (6 di Luglio) Deucenews aveva anticpato che SONIC BOOM poteva essere preso in considerazione come possibile titolo per il nuovo album (SONIC BOOM risulta essere un marchio registrato e depositato dai KISS). Recentemente il redattore di Guitar Player Magazine, che  ha potuto ascoltare 5 nuovi pezzi e di cui ha pubblicato una recensione, ha ammesso che sui monitors durante l'ascolto della musica è apparso il titolo SONIC BOOM. Il titolo comunque non è stato ancora confermato dalla band.
KISS 5 NEW ALBUM SONGS REVIEW!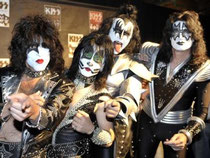 29-07-09 (from Guitar Player Magazine Editor)
"Heard 5 songs.If you dig Kiss, you're gonna dig this new album!Paul sings his ass off,Eric plays some amazingly powerful drums and Gene was finally made to play all of his bass parts(apparently in the past if someone had a cool bass idea, he let them play it). He DOES have a pretty driving sound!Finally, Paul and tommy's guitars sound HUGE, with some fab riffs and 70's style solos!"
"No surprise, but the five songs I heard had huge, anthemic choruses. The band played the basics LIVE in the studio -- the first time they've done that in a long, long time -- and, as a result, you get the fire and bombast of the early KISS ALIVE albums with the sonic dimension of tracks recorded in a studio setting. Sorry, I didn't jot down song titles. The title they had on the studio TV monitors while they were playing the audio files was SONIC BOOM. I don't know if that will stick or not."
Ecco una recensione di 5 nuove canzoni dei Kiss a cura di Guitar Player Magazine:
"Abbiamo ascoltato 5 canzoni.Se vi piacciono i Kiss, amerete questo nuovo album! Paul canta con tutto se stesso, Eric suona delle parti di batteria potentissime e Gene finalmente suona tutte le sue parti di basso (in passato se qualcuno gli proponeva qualche buona idea Gene gli permetteva di suanarla sull'album) ed hanno un grandissimo suono. infine le parti di chitarra di Paul e Tommy suonano in modo grandioso, con favolosi riff e assoli in pieno 70's style!"
"I KISS hanno suonato LIVE in studio e questo ha dato di nuovo loro un suono bombastico e ruvido dei primi anni, non posso rivelarvi i titoli però. Il titolo che è apparso sui monitors durante la presentazione è stato SONIC BOOM, ma non è dato sapere se sarà il titolo definitivo."
ARE WE GOING TO BE TWISTED BY 360° OR BLASTED AWAY BY A SONIC BOOM??
06-07-09 (from DeuceNews)
As the D-Day is getting closer as much rumors about new KISS album title are popping up on the net. We told you lately of the stories around 360°.
With the recent comment by Eric on KISSonline "The band has come full circle" that "possible" title gained points on another rumored title like SONIC BOOM. This last one came out from recent comments on the new "old sound" the KISS music will have.
Nevertheless, Michael Doret, the artist father of the Rock and roll over cover and also of the new baby is closed in a secreted silent and he doesn't say a word about...
KISS in the past rejected some cool possible titles like:
The harder They Come, original title for Hotter Than Hell
At Midnight, original title for Dressed To Kill
Severe Cuts, original title for Killers
War Of The Gods, original title for the follow up of the Elder
Dragonfly, original title for Animalize
Who Dares Wins, original title for Crazy Nights and also considered for Hot in the shade
Head, original title for Carnival of Souls......
Meantime yesterday night Gene stated that "just finished recording almost all of the new KISS studio album! It's the first studio album of new material in 10 years..."
...Today Tommy's quote from KOL "We did run a few of them [new songs] at our sound check in Milwaukee last week. Yep, you guessed right... They SCORCHED! Our tour crew guys were like, HOLY S**T, what was that?!!"
Più il D-Day si avvicina e più aumentano le voci sul titolo del nuvo KISS album. Abbiamo parlato di recente in merito a 360 °. Ora grazie al nuovo commento di Eric su KISSonline,  "The band has come full circle", il "possibile" titolo ha guadagnato punti su un altro in circolazione, SONIC BOOM. Questo ultimo è uscito dalle recenti osservazioni sul nuovo "vecchio suono" che la KISS musica avrà.
Non di meno anche Michael Doret, l'artista padre della copertina di Rock and roll over e papà della nuova creatura è chiuso nel silenzio e non rilascia una parola in merito...
Di seguito alcuni titoli scartati in passato che potrebbero essere ripresi:
The harder They Come, Hotter Than Hell
At Midnight, Dressed To Kill
Severe Cuts, Killers
War Of The Gods, The Elder II
Dragonfly, Animalize
Who Dares Wins, Crazy Nights e Hot in the shade
Head, Carnival of Souls......
Nel frattempo Gene ieri sera "appena finito di registrare il nuovo album! E' il primo KISS album in studio di nuove canzoni in 10 anni..."
...Tommy oggi dalle pagine di KOL "Ne abbiamo provate alcune [nuove canzoni] durante il sound check in Milwaukee la scorsa settimana. Bene avete indovinato... hanno fatto il vuoto! I nostri ragazzi erano lì a bocca aperta, CHE C***O, cos'era?!!"
MESSAGE FROM KISS!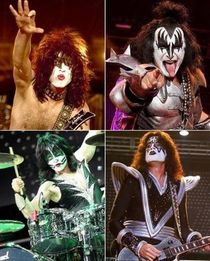 PAUL:
THIS IS KISS,CLASSIC KISS!
If you been reading KISSONLINE, it's no surprise to you now. We ARE done recording our new album.What might well be a surprise is that at the least, the album is right up there with our best. As much as we may have tried at some other times to achieve this, the chemistry, line-up or lack of total commitment from everyone might have been cause for it being impossible. Not now. Not this time.I know that when you hear it you will agree.Before we began the album, I said I was only interested in doing it if I produced and we followed set ground rules; Total commitment by everyone, pure guitar driven KISS, no outside writers, no outside players and my opinion and say would always be final.All said yes and I know we'd all say we've never had more fun together.All four of us made this our priority. Everyone was involved everyday. From the first day of writing to the last day of recording everyone was there giving 100% to making this the album we knew we had in us. I've never seen Gene more selfless (yes...Gene!), focused or harder working. His bass playing, songs and overall contribution help to make this the album you've wanted for so long. Without his spirit, this wouldn't have been possible.As far as Tommy's guitar playing, he took this chance at bat to consistently hit it out of the park. His playing is fiery and rooted firmly in our history, while making his own mark.Tommy's singing, writing contributions and total involvement made clear what's been missing for so long.In the twenty years I've known Eric, I've never seen him this relaxed or creative. His playing is the foundation of our next step forward. Relentless and full of spit and swagger. Many lead singers don't have Eric's chops or range. He's singing great on his track and all over the album.Wait till you hear what we've got for you.
Do I sound proud of everyone and what we've done together? I am, and I should be.Eleven songs. Eleven winners.This IS KISS. Classic KISS.It's been a long time coming.
GENE:
BEST KISS ALBUM IN 30 YEARS!
Our new album (title of which you'll just have to wait a bit longer for) is just a few steps from being completely done. We're planning on re-visiting one of the eleven songs, to make sure it's gotten everything it deserves. Maybe re-arranging it one last time. Then, time to mix.The entire writing and recording process of the album harkened back to an earlier, more innocent time. A time that produced albums such as ROCK AND ROLL OVER and LOVE GUN. And, the new songs have that feeling, I have to say.It all started with a point of view Paul had. The view had to do with ignoring the times, ignoring the critics, not over thinking who and what we are...and that we had nothing to prove to anyone....nothing. We have been releasing albums and touring for 35 years and why wouldn't we want to do an 'honest' record. Just do it!!! And, he wanted to produce the album himself!!!While it's true in the past we had produced KISS records together. And we had both produced other acts outside of KISS. But here was Paul saying he wanted to shoulder the responsibility and burden of steering the good ship KISS on his own.He was serious. And, I saw it was real. I saw the commitment he was going to make to the album and the band... and I agreed. We all trusted each other and saw the same vision of the band...and perhaps democracy is overrated...and sooner or later, someone had to decide.And I will tell you here and now, he's done a great job.The process of writing songs involved both writing separately, but often, in hotel rooms and rehearsal halls, literally starting from scratch and throwing riffs and chords at each other. Then working on melody and lyric...starting alone, then bringing it into the rehearsal halls and even during recording, we would often critique the lyrics all the way down to the last minute.
Tommy really stepped up in the songwriting area....co-wrote some songs with us and actually sings his first song on a KISS album. Eric, likewise was always encouraging and of course, provided his always dependable bombastic drumming style. But unlike other drummers, Eric is also a great singer. Wait until you hear him tear it up on his lead vocal.
What else, you ask?Well, Paul and I trade vocals on a few tunes and had a lot to say about each other's songs...Result? Maybe the best record we've done in 30 years.
Bold statement? You bet.Wait till you hear it.
TOMMY:
YOU'RE GONNA LOVE IT!
Well the brand new KISS studio album is almost ready to go - actually more like ready to EXPLODE! We finished recording last week, with the exception of one tune that needs an hour or so more --- I have to tell you it KICKS!
Paul has done a fantastic job keeping everyone in line and the direction clear. As you might have heard, all the tunes were written within the band and recorded analog -- which means hot, heavy and rockin' in the classic sense! We definitely didn't over-think it.From the beginning stages of writing, rehearsing and arranging the tunes, to putting the trax down on tape, we went with our GUT... kept it raw and real. We didn't go more than two or three takes when we recorded the basic tracks, which by-the-way, we recorded with all four of us together -- which is a rare (or non-existent) occurrence with bands in this modern digital age. We had a laugh when we were tracking the 11th and very last tune and Eric said, we have to get this in two or three takes like all the others or it ain't no good!The true test for how new tunes hold up is when you play them live. As everybody probably knows, we haven't played any of these brand-new songs in concert, but we did run a few of them at our sound check in Milwaukee last week. Yep, you guessed right... They SCORCHED! Our tour crew guys were like, HOLY S**T, what was that?!!It's been a gas doing this record with Paul, Eric and Gene -- truly a collaborative effort! I told the guys the other day that in my humble opinion, this is by far the most cohesive sounding record KISS has made in a long, long time -- meaning that ALL the tunes are great, the sound kicks my ass, and it all fits together perfectly as an album. IT DON'T GET ANY BETTER THAN THAT!Can't wait for you to hear it...You're gonna LOVE it!
ERIC:
NO BALLADS, NO SLOW SONGS, NO FILLERS!
You Wanted The Best ? Well the wait is almost over...I have been hearing KISS fans say for a longtime that 'All's we want is NEW KISS music' ... Well, sometimes wishes do come true !Last December Paul called me up saying he wanted to make a new KISS record. He seemed very keen and was very specific about the approach to our latest endeavors.He basically said he wanted us to make a KISS record and music in the purest sense. Meaning No outside writers, the BAND plays on everything, and we use vintage equipment.Guess what ?The end result is everything I could have hoped for.I have to say this has been the most fun and pleasure making a record I have ever been involved in. The chemistry and overall vibe really made for such a great atmosphere and the playing, sounds and songs just really capture what KISS is all about. Classic Rock & Roll. As we were working up song ideas everyone was very in tune and conscious of our goals at all times. Gene and Paul would retrace their steps from the past and focused on paying tribute to their roots of the early styles of Classic KISS by paying close attention to the way they sang and the sounds of the instruments.The camaraderie between everyone and especially Gene and Paul really made it easy for all to bring the best out of each other.
Paul took the reigns and headed up the project like the leader that he has been for over 35 years but, this time with a renewed, inspired and very patient style (he is a great dad after all). He really knew what he wanted from each of us individually and collectively.We did the 11 new songs in small batches by getting into a rehearsal studio first to work up ideas. We then would move to the recording studio. The recordings would entail all of us playing 'live' together in the room. As we captured each performance we would then add extra guitar parts and usually put a guide vocal on the track so we could live with it for a few days and make sure the tempos and vibe was right.By the way we used NO click tracks on this record I am proud to say. We really went for capturing the live feel and essence of each song. And, Paul, Gene, Tommy and myself are the only musicians playing these songs. A true band effort and performance !As for the songs ?Well, no ballads, no slow songs, no filler...The band really has come full circle.Just pure straight ahead Rock and Roll that has all the elements that made you love KISS from day one.Everyone sings lead on a song (Tommy and myself) and even trade off vocal lines and parts throughout the record.Believe me the wait IS over and well worth it !I hope you all enjoy listening to it as much as we did making it...More as it happens !