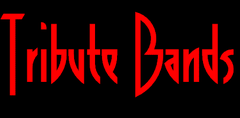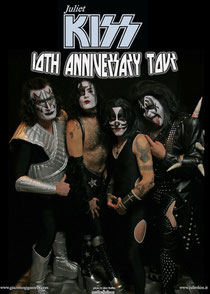 JULIET KISS
Members:
Giacomo "Starchild" Gigantelli
Marco "Demon" Zani
Marco "Space Ace" Ferrario
Roberto "Catman" Zanoni
Date & place of birth:
2002, Verona, Italy
Discography:
2002 Italians Kiss Better, Azzurra Music
2004 Verona Rock City, Azzurra Music
Website: giacomogigantelli.com
Contatcs info.gigantelli@gmail.com
Next shows: all dates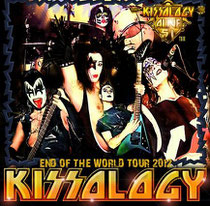 KISSOLOGY
Members:
Andrea De Stanleys a.k.a. Wild Steel (vocals)
Shawn Simmons (bass)
Space Ale (lead guitar)
Logan Singer (drums)
Psycho Vincent (guitars)
Date & place of birth:
2003, Genova, Italy
Discography:
ALIVE51 (Oct. 15 2012)
Website: KISSOLOGY.BAND
Contatcs: kissologyband@gmail.com
Next shows: all dates
DeuceNews Interview with KISSOLOGY here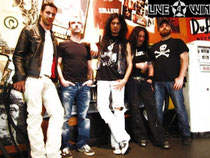 LIVE4WIN
Members:
Giacomo "Starchild" Gigantelli (Guitars&Vocals)
Gionata Bellei (Lead guitar)
Damiano Battaglia (Bass)
Roberto Arduini (keyboards)
Roberto Gambarelli (Drums)
Date & place of birth:
2007, Verona, Italy
Discografy:
2011 Studio Cuts, Gigahertz Prodution
Website: Live4win.com  giacomogigantelli.com
Contatcs: info.gigantelli@gmail.com
Next shows: all dates
OTTIENI IL MEGLIO METTI LA TUA TRIBUTE BAND QUI!!

Scegli anche tu, come i KISS e Bruce Kulick DeuceNews.com per promuovere le attività della tua KISS Tribute Band!!!
Potrai avere:
Banner/logo della tua band sulla pagina DeuceNews/KISS Tribute Band con link al tuo sito/myspace/facebook
Promozione delle tue date live tramite inserimento delle news ed informazioni delle singole date nella sezione news del sito e sulla pagina facebook di DeuceNews per ogni data tre giorni prima della data stessa.
Due pubblicazioni all'anno della biografia/storia del gruppo sul sito o pubblicazione di due interviste al gruppo o ad un suo membro.
Pubblicazioni di eventuali ricerche di spazi per suonare o di nuovi membri del gruppo.
Non perdere questa grande occasione di essere presente sulla sola ed unica webzine italiana dedicata ai KISS e scelta dai KISS stessi per promuovere il loro grande ritorno alle produzioni musicali come Sonic Boom e presto del suo seguito!!
Per info&sottoscrizioni scrivetemi qui a deucedeucenews@gmail.com
GET THE BEST, YOUR TRIBUTE BAND HERE!!

You act like KISS? Choose, as KISS and Bruce Kulick, DeuceNews.com to promote your KISS Tribute Band activities!
You will get:
Banner / logo of your band on the DeuceNews/KISSTribute Band page link to your website / myspace / facebook
Promotion of your gigs through news and information of the show dates in the news section of the site and on DeuceNews facebook page.
Two publications per year, such as biography / history of the group orpublication of two interviews with the group or one of its members.
Publications of your searches for any space to play o for new members.
Do not miss this great opportunity to be present on the one and only Italian webzine dedicated to KISS, chosen by KISS themselves to promote their return to the big musical productions such as Sonic Boom and its follow up soon!
For info & subscriptions deucedeucenews@gmail.com