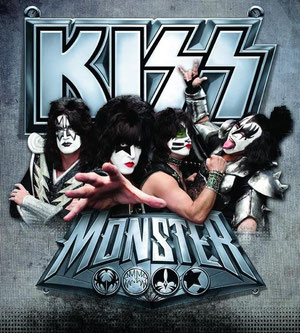 MONSTER TOUR 2012
2012 October 31-November 04 The KISS Kruise II   
November
07 River Plate Stadium Buenos Aires, Argentina 
10 Chile Maquinaria Festival Stadium, Chile 
14 Porto Alegre Fiergs, Porto Alegre, Brasil
16 Rio HSBC Arena, Rio, Brasil
17 Anhembi Stadium Sao Paulo, Brasil
RUMORS 2013
Australia - Announced
Europe (May-June) Announced 
North America - Announced
Japan - Announced
South America - To be announced soon 
2013 CONFIRMED DATES
February
28 Perth - Perth Arena
March
03 Clipsal 500 V8 Supercar, Adelaide, Australia
05 Melbourne - Etihad Stadium
06 Melbourne - Etihad Stadium
09 Sydney - All Phones Arena
10 Sydney - All Phones Arena
12 Brisbane - Brisbane Entertainment Centre
16 Mackay- Virgin Australia Stadium 
June
01 Friends Arena Stadium, Stockholm, Sweden
03 Hartwell Arena, Helsinki, Finland
06 Sweden Rock Festival, Solveborg, Sweden
08 Viking Fest, Stavenger, Norway
11 Forum, Copenhagen, Denmark
12 Waldbuhne, Berlin, Germany
14 O2 Arena, Prague
15 Nova Rock Festival, Nickelsdorf, Austria
17 Villa Manin, Codroipo (UD), Italy
18 Mediolanum Forum, Milano, Italy
20 Hallenstadion, Zurich, Switzerland
22 Hellfest, Clisson, France
July
5 - Save On Foods Memorial Center (Victoria, BC)
6 - Pepsi Live at Rogers Arena (Vancouver, BC)
8 - Prospera Place (Kelowna, BC)
10 - Enmax Centre (Lethbridge, AB)
12 - Rexall Place (Edmonton, AB)
13 - Scotiabank Saddledome (Calgary, AB)
14 - Credit Union Centre (Saskatoon, SK)
16 - Evraz Place (Regina, SK)
17 - Keystone Centre (Brandon, MB)
18 - MTS Centre (Winnipeg, MB)
20 - Rock Fest, Cadott, Wisonsin (USA)
23 - Sudbury Arena (Sudbury, ON)
25 - Scotiabank Place (Ottawa, ON)
26 - Molson Canadian Amphitheatre (Toronto, ON)
27 - Budweiser Gardens (London, ON)
29 - Bell Centre (Montreal, QC)
31 - Harbour Station (Saint John, NB)
August
1 - Metro Centre (Halifax, NS)
3 - Mile One Stadium (St. John's, NFLD)
4 - Mile One Stadium (St. John's, NFLD)
7 - Meadowbrook Amphitheater, Gilford, New Hampshire
9 - Turning Stone Casino, Verona, NY
10 - Mohegan Sun - Uncasville, CT
12 - nTelos Wireless Pavilion - Portsmouth, VA
13 - Amphitheatre at Heritage Park, Simpsonville, Carolina
16 - ArenaBowl XXVI, Orlando, Florida
18 - Seminole Hard Rock Hotel & Casino Hollywood, CA
October
19 - Makuhari Messe Arena - Tokyo, Japan
21 - Osaka Castle Hall - Osaka, Japan
23 - Budokan Hall - Tokyo, Japan
24 - Budokan Hall - Tokyo, Japan
28- The KISS Kruise III (returning November 1st)
CHECK BACK SOON FOR UPDATES ON THE MONSTER TOUR!!!
JUNE 26 2013
KISS BACK IN EUROPE NEXT YEAR?
KISS ended last week a very succesfull but short Monster Euro Tour. Several rumors and some Gene's tweets leave the door open for a possible come back early next year...wait and see!!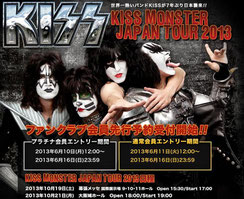 JUNE 10 2013
KISS JAPAN TOUR CONFIRMED
Last week we anticipated the news, now KOL confirmed two dates:
October 19 - Tokyo, Japan
October 21 - Osaka, Japan
JUNE 06 2013
KISS TO TOUR JAPAN IN OCTOBER!!
According to Genesimmons.com KISS will play Japan in October!!!
Here the dates: 19 Tokio 21 Osaka 23 Tokio 24 Tokio
In addition DeuceNews has received the following info:
Oct.19 Makuhari-messe Chiba (next to Tokyo)
Oct 21 Osakajyou Hall Osaka
23 and 24 Budokan Hall Tokyo
All dates are still to be confirmed.
APRIL 30 2013
KISS ADDS NEW YORK CONCERT DATE
KISS will bring their 2013 MONSTER World Tour to the Turning Stone Casino in Verona, NY on August 9th. A KISS Army members-only presale will take place tomorrow, April 30. Regular general public tickets will go on sale Friday, May 3.
APRIL 25 2013
KISS ADDS US DATES TO THE MONSTER TOUR!
KISS will bring their 2013 MONSTER World Tour to the Meadowbrook Amphitheater in Gilford, New Hampshire on August 7th. A KISS Army members-only presale will take place on Monday, April 29 at 10am EST. Regular general public tickets will go on sale Friday, May 3 at 12pm EST.
KISS will rock also the Amphitheatre at Heritage Park in Simpsonville on August 13.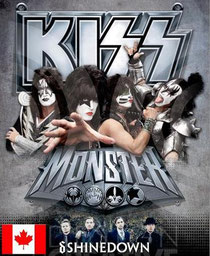 APRIL 2 2013
KISS CANADIAN DATES CONFIRMED!!
Kissonline confirmed the canadian gigs and this is the first time KISS use the Monster logo registered way back two years ago!

MARCH 28 2013
KISS TO TOUR CANADA, CENTRAL AMERICA AND JAPAN IN 2013
Gene Simmons confirms the rumors KISS will tour Canada, Central America and Japan in 2013. Gene reveals that a new record could come, here below the interview.
FEBRUARY 21 2013
KISS MONSTER TOUR: US & CANADIAN DATES SOON TO BE ANNOUNCED
According to an image taken from genesimmons.com The Monster Tour will hit Canada and secondary markets in the US this summer. Here below the new dates yet to be confirmed, while some rumors say about possible dats in South America in April.
July
5 Victoria, B.C.
6 Vancouver, B.C.
8 Penticton or Kelowna, B.C.
10 Lethbridge, AB
12 Edmonton, AB
13 Calgary, AB
14 Moose Jaw, SK
16 Saskatoon, SK
17 Estevan, SK
18 Brandon, MB
22 Winnipeg, MB
25 London, ONT
26 Hamilton (or Ottawa), ONT
27 Ottawa, ONT
29 Montreal, QC
31 - St John, N.B.
August
1  Halifax, N.S.
3 St. Johns, NFLD
8 Verona, NY
9 Uncasville, CT
10 Atlantic, NJ
13 Simpsonville, SC
FEBRUARY 18 2013
KISS TO HEADLINE ROCK FEST IN CADOTT NEXT SUMMER
KISS will headline the 'Rock Fest' in Cadott, Wisconsin on July 20th, 2013! Announcement will come soon at www.rock-fest.com.
JANUARY 30 2013
KISS TO PLAY DURING ARENABOWL XXVI!!
Legendary rock band KISS will perform during ArenaBowl XXVI weekend in Orlando!!!
ArenaBowl XXVI is set to be played at the Amway Center in Orlando on Saturday, August 17. The game will be broadcast live on the CBS Television Network at 1 p.m.
JANUARY-29-13
KISS TO HEADLINE LONDON'S HARD ROCK CALLING AT NEW OLYMPIC PARK? From www.stereoboard.com
Are Live Nation on the verge of announcing one of the world's biggest bands, KISS, for a Hard Rock Calling headline performance at London's Olympic Park this summer?
At the end of last week, Live Nation announced they had secured London's Olympic Park and Stadium for future live music events. The Live Nation move to the Olympic Park marks the end of a 10-year deal with The Royal Parks. Last year, Live Nation had to deal with a number of complaints from local residents about the noise levels surrounding Hyde Park during events. You may recall Bruce Springsteen and Paul McCartney being "cut-off" after their show over-ran last summer. With the annual Wireless Festival and Hard Rock Calling - both of which were previously staged at London's Hyde Park - already confirmed for the brand new venue, glam-rock legends KISS are rumoured to be this year's headliners for the Hard Rock Calling event.
NOVEMBER-20-12
ITALIAN SHOWS MOVED TO JUNE 17 AND 18
Due to a re-routing of the Monster Tour the Italian gigs have been moved to the 17 and 18 of June. Villa Manin June 17 - Milano June 18
A causa di un cambio di routing nel tour europeo dei Kiss, con l'aggiunta di nuove date all'estero, le due tappe italiane vengono anticipate al 17 e 18 Giugno 2013.
I Kiss saranno quindi a Villa Manin a Codroipo (UD) il 17 Giugno e il giorno seguente al Forum di Milano. I biglietti già acquistati per entrambi concerti restano validi per le nuove rispettive date. Barley Arts e Azalea Promotion si scusano con il pubblico per eventuali disagi.
NOVEMBER-19-12
ANOTHER DATE ADDED TO THE MONSTER EURO TOUR 2013
KISS will bring their MONSTER Tour to the O2 Arena in Prague on June 14, 2013. More shows are rumored to be added to the tour, recently Kiss Army Spain announced KISS to play at the Azkena Rock Festival on June 22 and Madrid on the 24, while days ago Metaltalk posted of a possible headlining at the Download Festival in the UK.
NOVEMBER-13-12
KISS RETURNS TO AUSTRALIA IN 2013!
It's the news Australian fans have been waiting for with the spectacle of all spectacles announced today, KISS with very special guests Mötley Crüe will tour Australia in March 2013. Presented by McManus Entertainment, the summer's biggest, baddest rock tour will hit Sydney, Brisbane, Melbourne, Perth, Mackay and Adelaide with guests Irish rockers Thin Lizzy along for the ride (*except Adelaide).
NOVEMBER-08-12
MONSTER TOUR: TWO DATES CONFIRMED FOR THE ITALIAN FANS!!
As anticipated here months ago, the MONSTER TOUR will hit Italy next year.
Two dates confirmed so far, June 18 Villa Manin (UD) and June 20 Milan Mediolanum Forum!!
Come anticipato da DeuceNews, i KISS saranno in tour in Italia nel 2013!!
MARTEDì 18 GIUGNO 2013 - CODROIPO (UD) - VILLA MANIN
Posto Unico: 65€ + prev. - Apertura porte ore 18:00 - Inizio concerto ore 20:00 - info www.azalea.it
GIOVEDì 20 GIUGNO 2013 - ASSAGO (MI) - MEDIOLANUM FORUM
Parterre: 65€ + prev. - 2° anello num. 60€ + prev. -1° anello num. 75€ + prev.
Tribuna GOLD numerata 110€ + prev. - info www.barleyarts.com - Apertura Porte ore 18 - Inizio ore 20
Biglietti per le due date in vendita da Sabato 10 Novembre alle ore 12 su www.ticketone.it 
NOVEMBER-05-12
KISS TO HEADLINE SECOND STAGE AT DOWNLOAD
According to MetalTalk KISS are understood to be headlining the second stage at Download Festival on the Friday June 14th. The Donington show would be their only UK concert in 2013 as part of the European Tour promoting their new album 'Monster'.
OCTOBER-08-12
KISS TO TOUR EUROPE IN 2013
KISS will bring their 'MONSTER' Tour to Sweden for two massive shows next June! The band will perform at the brand new Friends Arena Stadium in Stockholm on June 1st, and then rock the Sweden Rock Festival in Solvesborg on the 6th!
Tickets for the Stockholm show go on sale this Friday, October 12th. Tickets are on sale now for the Sweden Rock Festival at www.swedenrock.com.
JUNE 1 - FRIENDS ARENA STADIUM - STOCKHOLM
JUNE 6 - SWEDEN ROCK FESTIVAL - SOLVESBORG
More dates are in the works for a Euro Monster Tour in May-June.
SEPTEMBER-23-12
KISS TO HEAD OFF TO AUSTRALIA BEGINNING OF 2013
According to a recent tweet by Tommy Lee, Motley Crue will be part of the show KISS will bring to Australia beginning of 2013, as Doc McGhee revealed way back on January 17 this year.
SEPTMBER-18-12
KISS TO ROCK CHILE NOVEMBER 10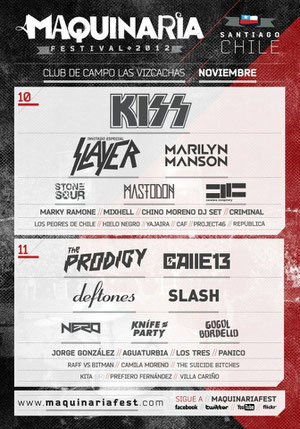 JUNE-14-12
KISS TO PLAY LONDON JULY 4TH!!
KISS will play at the London HMV Forum on July 4th and debut the first single off MONSTER!!!

MAY-03-12
KISS TO ROCK MASSIVE NORWEGIAN FESTIVAL!!!
KISS will headline the 2nd night of the Kollen Summer Festival in Oslo, Norway on Saturday, June 30th, 2012. The concert will take place at the Holmenkollen National Arena. Infos www.kollenfest.no, tickets www.billettservice.no/
APRIL-24-12
KISS TO PLAY LONDON IN JULY?
According to MetalTalk.net KISS "are in negotiations to play at the London HMV Forum on July 4th." Recently Gene Simmons has posted the following "KISS and Motley Crue tour starts in July. And before then KISS will be in Europe for a festival or two." After the Sonisphere fiasco we all hope KISS will make it! Stay tuned for updates.
APRIL-19-12
GENE SIMMONS: KISS TO PLAY EUROPE BEFORE "THE TOUR"
Recently GeneSimmons.com posted updates about Gene & KISS events, among many... "This summer is shaping up to be the beginning of a two-year long full schedule. KISS and Motley Crue tour starts in July. And before then KISS will be in Europe for a festival or two." We can't say which Festivals might be as all the biggest ones already announced their headliners...let's wait and see!
ALL DATES 2012

March 20    Mini concert from L.A.  "Jimmy Kimmel Show" 
March 30    Woldenberg Park, New Orleans
June    30    Kollen Summer Festival in Oslo, Norway Tickets here
July 4          London HMV forum, UK, SOLD OUT
July 6          Knebworth, UK Sonisphere Festival  Cancelled
THE TOUR:                                              Vip package here - Tickets here
July
20 - Jiffy Lube Live - Bristow, VA
21 - Farm Bureau Live - Virginia Beach, VA
22 - Time Warner Cable Music Pavilion - Raleigh, NC
24 - Aaron's Amphitheater at Lakewood - Atlanta, GA
25 - Verizon Wireless Amphitheatre - Charlotte, NC
27 - Cruzan Amphitheatre - West Palm Beach, FL
28 - 1-800-ASK-GARY Amphitheater - Tampa, FL
31 - Oak Mountain Amphitheatre - Pelham, A\L
August
1 - KFC YUM Center - Louisville, KY NEW
3 - Cynthia Woods Mitchell Pavilion - Woodlands, TX
4 - Gexa Energy Paviliion - Dallas, TX
5 - AT&T Center - San Antonio, TX
7 - Hard Rock Casino Presents: The Pavilion - Albuquerque, NM
8 - Comfort Dental Amphitheater - Englewood, CO
10 - Ashley Furniture Home Store Pavilion - Phoenix, AZ
11 - Mandalay Bay Arena - Las Vegas, NV
12 - Cricket Wireless Amphitheatre - Chula Vista, CA
14 - Verizon Wireless Amphitheater - Irvine, CA
15- Shoreline Amphitheatre - Mountain View, CA NEW
16 - Sleep Train Pavilion - Concord, CA
18 - White River Amphitheatre - Auburn, WA
19 - Sleep Country Amphitheater - Ridgefield, CT
24 - Rock Jam Grand - Junction, CO
26 - BOK Center - Tulsa, OK
27 - Verizon Wireless Amphitheatre - Maryland Heights, MO
29 - Minnesota State Fair - Minneapolis, MN
31 - Riverbend Music Center - Cincinnati, OH
September
1 - Klipsch Music Center - Noblesville, IN
2 - First Niagara Pavilion - Burgettstown, PA
4 - Bridgestone Arena - Nashville, TN
5 - DTE Energy Music Theatre - Clarkston, MI
7 - First Midwest Bank Amphitheatre - Tinley Park, IL
8 - Alpine Valley Music Theater - East Troy, WI
11 - Allegan County Fair - Allegan, MI
12 - Blossom Music Center - Cuyahoga Falls, OH
13 - Molson Amphitheatre - Toronto, ON
15 - Darien Lake PAC - Darien Lake, NY
16 - Comcast Center - Mansfield, MA
18 - Toyota Pavilion - Scranton, PA
19 - Susquehanna Bank Center - Camden, NJ
21 - PNC Bank Arts Center - Holmdel, NJ
22 - Nikon at Jones Beach - Wantagh, NY
23 - Comcast Theater - Hartford, CT
MARCH-20-12
THE TOUR....IS COMING!!
Summer KISS/MC tour dates are leaking through the web, some:
August 14th Irvine, Verizon Wireless Amphitheater - CA
September 16th 2012 at Comcast Center in Mansfield MA (thanks Dan)
....
...
but let's wait for the Official Announcement today at KOL!!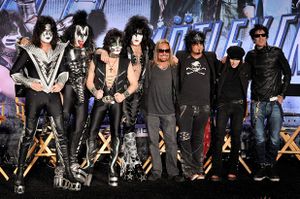 MARCH-19-12
KISS TO ROCK NEW ORLEANS MARCH 30!!
KISS will play a free concert in New Orleans (Woldenberg Park) during NCAA Final Four game on March 30!
MARCH-19-12
WIN MOTLEY CRUE & KISS TICKETS!!
Listen for Motley Crue and KISS back to back with Harv at 3pm. Call 447-ROCK for your chance to win a pair of tickets to see Motley Crue and KISS September 1st at the Klipsch Music Center! before they go on sale!
Show:  Motley Crue and KISS Date:  Saturday, Sept 1st
Venue:  Klipsch Music Center (formerly Verizon Wireless Music Center)
On-sale:  Saturday, March 24 at 10am Get More Info: livenation.com
MARCH-14-12
KISS TO ANNOUNCE US TOUR NEXT TUESDAY MARCH 20!!
Vince Neil revealed to lasvegassun.com that Motley Crue will be "co-headlining with KISS from July through September on a massive U.S. tour. Expect the official announcement from L.A. next week!!" Stay tuned!!!
MARCH-13-12
GET YOUR TICKET FOR KISS MINI CONCERT AT KIMMEL SHOW!
On March 20 KISS will perform a mini show live for the Jimmy Kimmel Show.
Get your tickets here
MARCH-05-12
MONSTER TOUR TO KICK OFF IN JULY
Good news for the KISS fans, during press conference for the upcoming Rock-N-Roll Allstars gigs, Gene Simmons confirmed Monster Tour to kick off in July for a two years World wide Tour!! KISS will play July 6 2012 in Knebworth, UK at the Sonisphere Festival, then they will embark in the proper Monster Tour in the USA.
Lately it was said KISS will then hit Europe, Australia and Japan in 2013.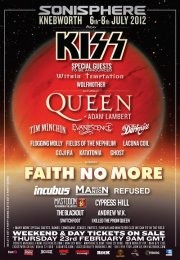 FEB-20-12
KISS TO PLAY SONISPHERE ON JULY 2012!!!!
We talked this way back on November last year...now it's a fact!!
KISS will headline the friday night and will be their one and only concert in Europe for 2012. sonisphere.co.uk/news/kiss-european-exclusive/
Tickets here
JAN-24-12
KISS TO TOUR ITALY IN 2013
DeuceNews.com has recently received confirmation from the Italian promoter KISS will Tour Italy sometime in 2013. To be in Italy in 2013 means KISS will tour Europe not before next year lowering the chanches to see them headlining some rumored Summer Festivals...will see!
JAN-17-12
DOC MCGHEE: KISS TO TOUR AUSTRALIA IN 2013
According to LiveGuide.com.au "Rock and roll superhero supergroup KISS has confirmed that they will be touring Australia next year. Their manager, Doc McGhee, told The Music Network that they have plans to come to Australia "next year. 2013".
Recently Gene Simmons revealed the KISS will embark in a almost two years tour throughout Europe, South America and Asia, starting this summer in support of the forthcoming "MONSTER" album; a tour that "promises to take technology to the extreme".
JAN-06-12
KISS TO TOUR WITH MÖTLEY CRÜE THIS YEAR
BraveWords.com sources can confirm that early reports indicate that KISS and MÖTLEY CRÜE will join forces for an extensive tour in fall 2012. It's expected that Mötley Crüe will support KISS on this trek, in support of their forthcoming studio album, Monster. Stay tuned for complete details!!
JAN-03-12
MONSTER TOUR TO START THIS SUMMER
A new Gene's interview has been posted on consequenceofsound.com.
About "Monster" album and tour: "We're holding up releasing it, because there's a tour that starts next summer. It's going to be a worldwide tour that will last… oh, I don't know, a year-and-a-half or so. We're holding out and releasing it later to coincide with the tour, along with a ten-hour DVD, as well as a four-foot high book. It's literally four feet high."
27-11-11
KISS TO PLAY SWEDEN ROCK FESTIVAL?
European promoters are hard at work to book KISS next summer. An unconfirmed source told us that it would be possible KISS will be playing June 8 at Sweden Rock Festival and they maybe playing in July in Spain at the BBK Live Festival.
22-11-11
KISS "MONSTER" TOUR TO KICK OFF NEXT SUMMER
Gene Simmons, while at the 2011 American Music Awards, confirmed (see video) that KISS will embark in a world tour soon after the release of  "Monster" (set for late Spring next year); a Tour that "promises to take technology to the extreme".
18-11-11
KISS "MONSTER" TOUR IN THE MAKING
While the "Monster" album is set for a spring release currently some rumors say of a possible European Summer leg of the "100 cities Monster tour", dates in June, July are in the work for Italy, Germany and Spain with apparently an headlining role for the Sonisphere 2012 in the UK planned for July 6-8. More news as they will come available.
10-11-11
KISS TOUR TO KICK OFF NEXT SUMMER AND HIT 100 CITIES
Gene Simmons revealed to Planet Rock UK that KISS will embark on a 100 cities tour in the summer of 2012.
03-11-11
GENE SIMMONS TALKS NEW WORLD TOUR: WE PLAN TO BRING THE ACTION TO YOU

Recently Gene Simmons talked to Mojo Magazine about the forthcoming Monster album, here some excerpt. Monster world tour "If you can bear it, there will be even more kick-in-the-nuts effects," he insists. "We've had many effects on-stage [over the years], but now we plan to bring the action to you. We'll have to start making seats with safety harnesses, so people can buckle in."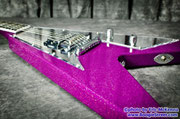 28-10-11
NEW COSTUMES FOR UPCOMING MONSTER TOUR?
Back in August Eric revealed to Bravewords, the idea KISS are having to change somehow the current costumes and stage show...now Eric McKenna showed the Paul's new weapon of choise...a come back to the Dynasty band member colours??
26-10-11
MONSTER TOUR: THE MOST AMBITIOUS WORLDWIDE TOUR EVER (from CNN)
KISS will  embark on its biggest and most ambitious worldwide tour ever, spanning multiple countries and continents, in support of Monster.
01-08-11
KISS MONSTER TOUR 2012-13 IN THE WORKS (from licensemag.com)
KISS, which just concluded its 2011 "Lost Cities" tour last month, is already working on its 2012-2013 "Monster" world tour which will take the band to numerous countries throughout Europe, South America and Asia. The first new album since 2009's "Sonic Boom," also called "Monster," is scheduled for release in January.

01-08-11
ERIC SINGER: NEW TOUR WITH NEW STAGE (from bravewords.com)
"The plan is to put it out at the beginning of the year and to do a tour with a new stage (new staging and new show) and maybe even new costumes. There's no plan to sit around in 2012."